To engage the private sector more across the country, we are working with partners to
Engage 21,200 Community Pharmacists, Patent Medicine Vendors and Traditional Birth Attendants in identifying and referring presumptive TB cases.

Engage 412 Faith-Based Organizations and 1,708 Private-for-Profit facilities in tuberculosis prevention and treatment services.

Build the capacity of 540 health care workers from Faith-Based Organizations and Private-for-Profit facilities to provide Drug Resistant Tuberculosis (DR-TB) out-patient services.

Scale-up tuberculosis diagnostic services to 421 additional private laboratories

Deploy a notification application for use by PPM providers nationwide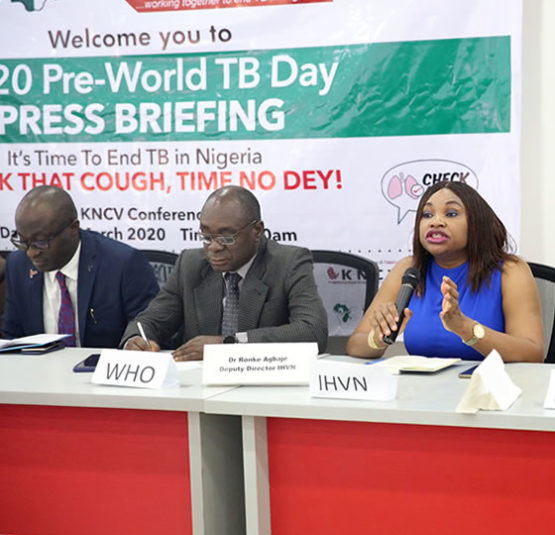 IHVN Representative at the 2020 Pre-World TB Day Press Briefing, Dr. Aderonke Agbaje, speaks on progress made in engaging the private sector in the fight against tuberculosis.
As the Lead Partner (Principal Recipient) of this project, we are working with German Leprosy and Tuberculosis Relief Association, Damien Foundation Belgium, The Leprosy Mission Nigeria, Catholic Caritas Foundation of Nigeria, and KNCV Tuberculosis to achieve the project goals in twenty states in Nigeria.
These states are Edo, Delta, Cross River, Akwa Ibom, Benue, Oyo, Ondo, Osun, Ogun, Kogi, Niger, Sokoto, Plateau, Nasarawa, Kaduna, Anambra, Enugu, Rivers, Imo and Abia States.
Other activities we are responsible for in the fight against tuberculosis include,
Maintaining drug-resistant tuberculosis treatment centers and ten reference laboratories for its diagnosis across the country.
Supporting the optimization of 394 GeneXpert machines in the country to diagnose tuberculosis
Transporting sputum (for tuberculosis tests) in all the 36 states and in the Federal Capital Territory and,
Ensuring quality in all these tuberculosis services in twelve states, Oyo, Ogun, Rivers, Imo, Ebonyi, Benue, Plateau, Kaduna, Kano, Bauchi and Taraba states through the Nigeria Qual program.