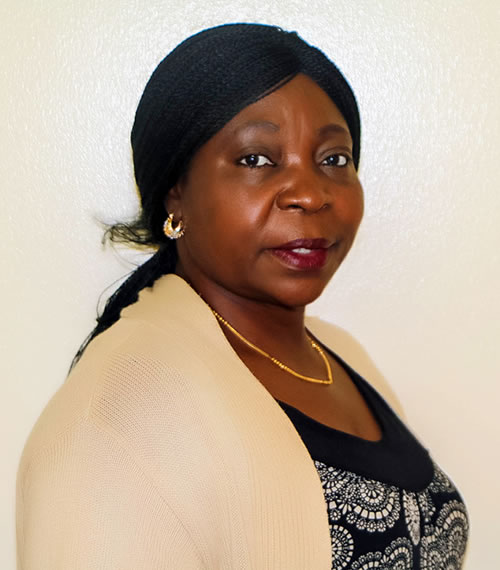 Personal Information
Mrs. Grace Adamu
Program Manager Maternal, Neonatal and Child Health
Achievements & Awards
Professional Qualifications :

RNM, B.Sc, Fellow West African College of Nursing.
Brief About Mrs. Grace Adamu
Biography
Mrs Grace Adamu serves as Program Manager, Maternal, Neonatal and Child Health at the Institute of Human Virology Nigeria (IHVN).
She coordinates the Institute's efforts to ensure zero transmission of HIV from mother-to-child in health facilities supported by the Institute in the country. Mrs Adamu provides oversight to state and facility teams implementing mentor mother programs and supervises the involvement of traditional birth attendants, adherence counselors and support groups in engendering health for mothers and children.
Her tasks also include promoting cervical cancer screening; antenatal care and hospital delivery among women living with HIV. She also collaborates with relevant stakeholders to achieve organizational goals.
Mrs Adamu's wealth of experience spans a career stint within IHVN as a Senior Program Officer and Program Officer in adolescent, peadiatrics and prevention of mother-to-child transmission of HIV services. She was Senior Supervising Matron at National Hospital, Abuja and an Assistant Director Nursing Services at Gombe State Ministry of Health. She has also rendered nursing and midwifery services in Specialist Hospital Gombe and General Hospital Azare.
She is a Fellow of the West African College of Nursing from the University of Ibadan, Nigeria; a Registered Nurse and a Midwife. Mrs Adamu holds a Bachelor of Science Degree in Public Administration from the University of Abuja as well as a Diploma in HIV management from Galilee International Management Institute. She has also earned certificates in Clinical Management of HIV, and Leadership and Management in Health from the University of Washington, USA.
Mrs Adamu has attended several courses and conferences within and outside Nigeria such as "Learning and Experiential Sharing on Zimbabwean Community Adolescents Model (CATS) and Association of Nurses in AIDS Care (ANAC) conferences in Atlanta; and others in Chicago, Johannesburg, SA and Amsterdam, Netherlands.'
Her hobbies are traveling and making friends. She is married with children.